Page 3 - Serteks Katalog 2018
P. 3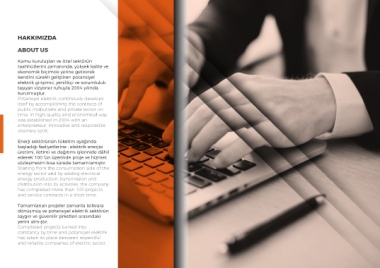 HAKKIMIZDA



            ABOUT US



            Kamu kuruluşları ve özel sektörün
            taahhütlerini zamanında, yüksek kalite ve
            ekonomik biçimde yerine getirerek
            kendini sürekli geliştiren potansiyel
            elektrik girişimci, yenilikçi ve sorumluluk
            taşıyan vizyoner ruhuyla 2004 yılında
            kurulmuştur.
            Potansıyel elektrik, continously develops

            itself by accomplishing the contracts of
            public institutions and private sector on
            time, in high quality and economical way,
            was established in 2004 with an
            enterpreneur, innovative and responsible
            visionary spirit.


            Enerji sektörünün tüketim ayağında
            başladığı faaliyetlerine ; elektrik enerjisi
            üretimi, iletimi ve dağıtımı işlerinide dâhil
            ederek 100 'ün üzerinde proje ve hizmet
            sözleşmesini kısa sürede tamamlamıştır.

            Starting from the consumption side of the
            energy sector and by adding electrical
            energy production, transmission and
            distribution into its activities, the company
            has completed more than 100 projects
            and service contracts in a short time.


            Tamamlanan projeler zamanla istikrara
            dönüşmüş ve potansiyel elektrik sektörün

            saygın ve güvenilir şirketleri arasındaki
            yerini almıştır.
            Completed projects turned into
            constancy by time and potansiyel elektrik
            has taken its place between respectful
            and reliable companies of electric sector.